LANKA PROPERTY SHOW 2019
Looking to buy a new apartment or lands? Want to meet major property developers under one roof? Interest in discussing your loan requirements with a bank? Then visit the Lanka Property Show 2019 on 09th and 10th February at Kingsbury Hotel from 10am onwards.
Sri Lanka's largest property show returning for the 4th consecutive time to showcase the latest luxury Apartments, Villas & great land deals
Meet Sri Lanka's prominent developers showcasing their latest projects and discuss your requirements with them
Exclusive previews of new property launches
Special deals for on-the-spot reservations (offered by some developers)
Lands for sale from around Colombo
House builders at the venue to talk about your housing requirements
Showcasing new developments from Colombo, South Coast and suburbs of Colombo
Banks and financial institutions at the venue to discuss about your housing loans with special loan rates offered for anyone taking a loan at the event
Talk to the country's leading agents/brokers and property managers about your real estate requirements
Listen to discussions about property investment opportunities
The clock is ticking - Last chance to buy before VAT.
Calling all buyers! If you're looking to buy a new apartment or land or you want to meet major property developers, house builders, banks, land sales and home product suppliers under one roof this will be the ideal platform with the rush to buy apartments before VAT comes in to effect in April 2019. Pop in to Sri Lanka's largest property show if you're interested in buying apartments, houses or lands in Sri Lanka!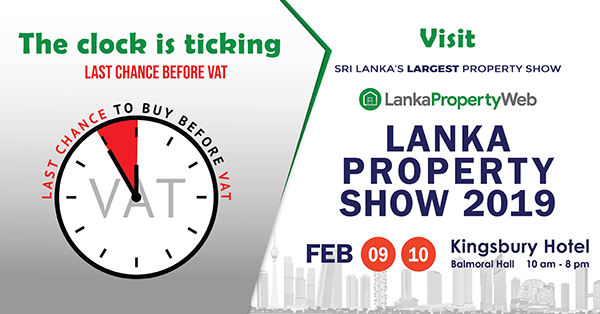 Get your loans pre-approved with NTB at LPS
We have NationsTrustLK on board throughout the event for bank loan assistance and for any advice or concerns the participants need to clarify. You can get your home loan pre-approved at the Lanka Property Show.
Buy now to beat taxes from 1st April 2019
(VAT 15% on purchase price)


Presentation schedule
Presentations and Panel Discussion on 'Market Outlook 2019' from 11:00am on Sat 9th Feb.
---
Past events